Today I'm sharing a really fun art project that has been a hit with just about every kid I've ever met. I'll explain instructions the rainbow crayon resist art project below!
Crayon Resist Art Projects
I've been an elementary school teacher for about 12 years and I've taught this art project for a number of years. Children, especially Kindergarten students absolutely love this project.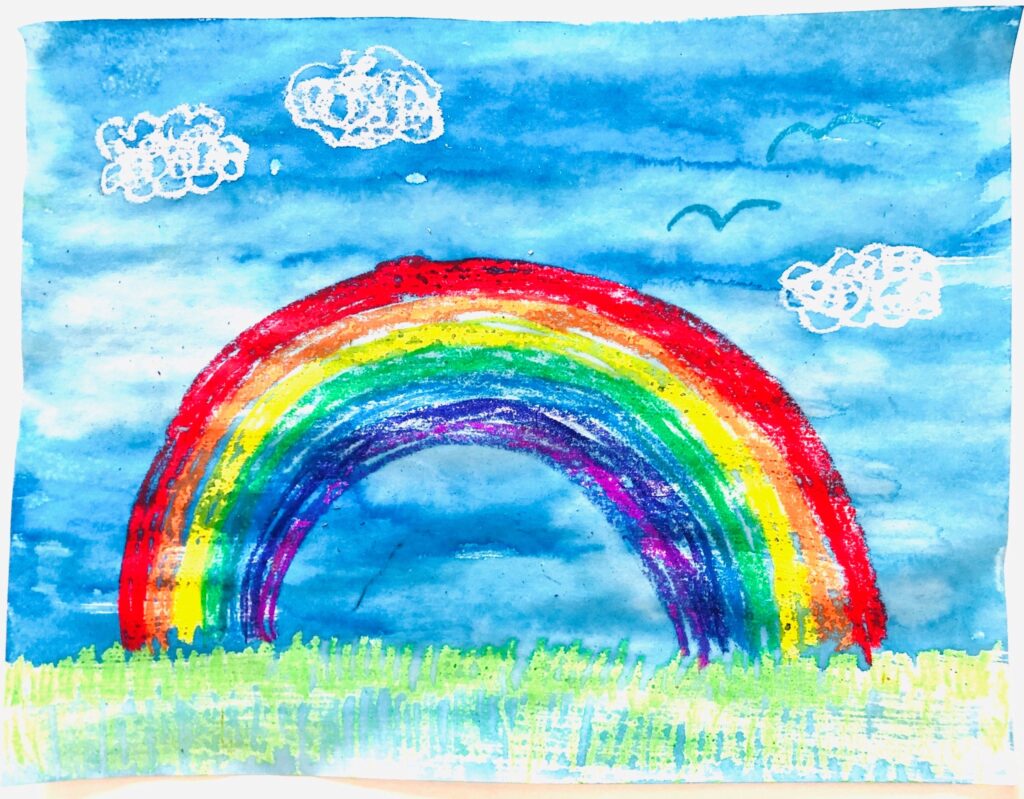 This crayon resist art project seems so magical for children. It has the 'wow factor' and I always get a few gasps of wonder from children in my class.
This week, my daughter and I did this project together. Just as I suspected, she loved the project and was so thrilled with the results.
Although I usually prefer process art projects (like this one), this crayon resist art project is simple for children who are preschool or kindergarten age. Even toddlers would certainly be able to do this project with some modelling.
Looking for more rainbow-themed activities? Try making rainbow toast or add some rainbow oobleck to your sensory bin rotation!
How to Make a Rainbow Crayon Resist Art Project
The process when making the rainbow crayon resist art project is very straight forward.
Materials:
paper
water colour paints (or liquid water colours)
A note about materials:
I've done this rainbow crayon resist art project many times with crayons and the typical paint pucks you would find in any classroom (you could also use a typical water colour set like this that you likely have in your home).
Note: this art project will NOT work if you swap the materials like acrylic paint, pencil crayons or markers.
This time, my daughter and I took it a step further and used oil pastels and liquid water colours.
This project works perfectly fine, and my students always love it. However, using better art materials definitely made this project even more fun!
The oil pastels are soft enough to really fully colour the rainbow. The liquid water colours give a great, vibrant colour that makes the 'magic' even more fun!
Instructions for Rainbow Crayon Resist Art Project
This project is best done if you are creating your own work of art alongside your child. This modelling will help them make the art project correctly. Usually I'm not big on modelling while my child is creating art projects, but for this one, you'll need to demonstrate how to properly create the rainbow, so later the 'magic' can happen with the water colours.
First, you'll want to draw grass, using either crayons or oil pastels. Try to colour the grass strip in fully.
Next, model drawing thick lines, colouring in each stripe of the rainbow. Encourage your child to colour the rainbow in fully with no white in between the colours.
Then you'll add some extras. I usually add some birds, but the most important thing to add are some nice white clouds. Ideally, the clouds won't even show up against the white background (this is where the magic comes in).
Finally, after you have all your details drawn on your paper, you'll use blue water colour paint to paint over your entire picture. This is where the magic happens. Be sure to paint the whole page, painting over top of the crayon drawing.
STEAM Connections:
You can add some STEAM learning to this crayon-resist art project. The oil in the crayon will not mix with the water colours. This could be a great lead into a unit on the properties of different materials.
This art project is a great way to introduce the wow factor of the crayon resist (or oil pastel resist) technique.
However, there are so many other ways to use the crayon resist technique. I encourage you to try some out:
Process art: allow your child to explore the oil pastels in their own way and then add several colours of the water colours to their art work.
Use the same technique used for the clouds, but draw snowflakes for a winter picture.
Practice spelling name, sight words and spelling words in white, then paint over to see the word appear.
I hope you and your kiddos enjoy this rainbow crayon resist art project as much as we did!
If you're looking for more fun spring-themed art projects, try this tie-dye coffee filter flower craft!
Like this post? Pin it for later!