Are you looking for an easy spring craft that will keep your little ones entertained? This tie-dye preschool flower craft is so simple to make and so much fun! The perfect way to celebrate spring with your kids!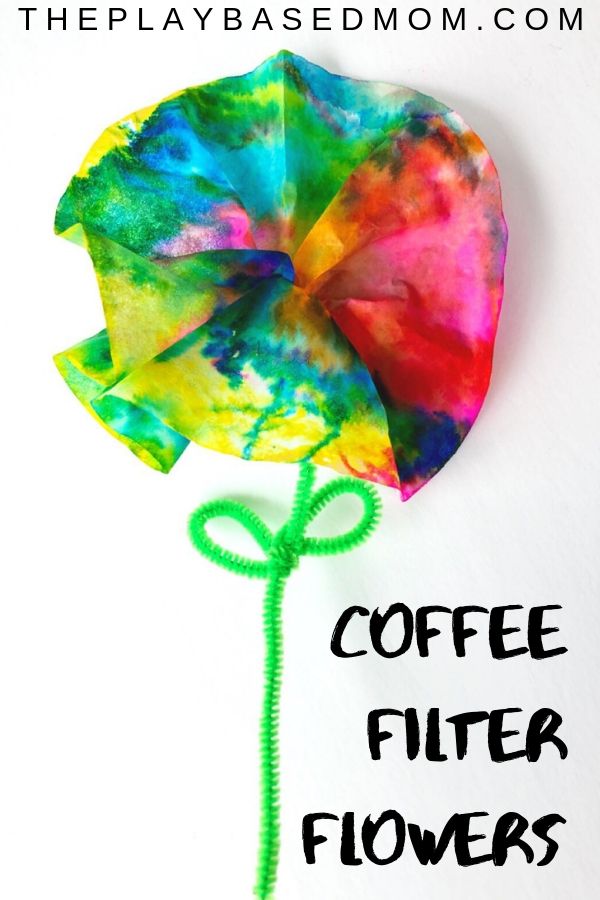 This post contains affiliate links. This means I may receive a small commission at no cost to you if you make a purchase after clicking on a link on this page. Read more here.
Tie-Dye Preschool Flower Craft
I want to share with you a super simple and fun craft we made this week. My four year old loves doing crafts and activities, but I don't always have time to create elaborate crafts for her. This tie-dye preschool flower craft is so easy. You can grab a coffee filter and some markers and go to town!
This craft is the perfect gift for your child to make for Mother's Day. A bouquet of handmade flowers would be a beautiful gift for a grandmother, aunt or godmother.
Tie-dye crafts are my absolute favorite (you can see my turkey tie-dye craft here). This craft uses simple materials and is so, so, so much fun to make. The tie-dye process is fascinating to kids, from toddlers to big kids (and can keep them entertained for HOURS). Even better, if you use water-proof markers, you're guaranteed a super-easy clean up.
This craft is a super way to practice fine motor skills (see more super simple fine motor activities here). Using markers is, of course, great fine motor practice Wetting your coffee filter with either a pippette or a spray bottle is also a great way to strengthen little hands.
This craft is a great activity in a preschool or kindergarten class. I routinely use variations of this craft with my K's and it's a hit everytime! Teacher tip: if you're doing this craft with mutliple kids, have everyone colour their coffee filter at the same time. To prevent mess and chaos, have children come up 1-2 at a time to a spraying station to wet their coffeee filter. Because the kdis will finish colouring at different times, it's easy tfor everyone to have a turn to spray without waiting for a long time.
How to Make Flower Craft
Materials for Tie-Dye Preschool Flower Craft
washable markers
coffee filters
pipe cleaners
pipette or spray bottle of water
used paper
Instructions for Tie-Dye Preschool Flower Craft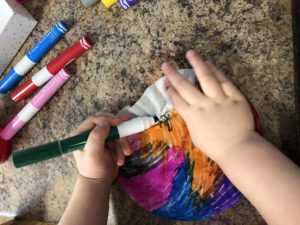 Have your child colour the coffee filter with markers. The more colour they add, the brighter the flower will be.
Place coffee filter on a piece of used paper.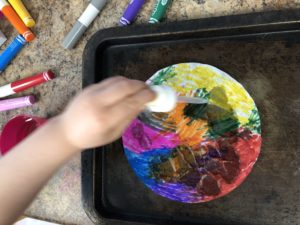 Have your child either spray the coffee filter with a spray bottle of water, or use a pipette to squeeze drops of water onto the filter.
Let your child watch the water spread and the tie-dye effect spread.
Let coffee filter dry.
Twist the middle of the coffee filter to form a flower shape.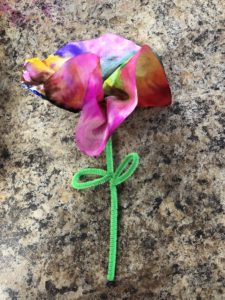 Attach a pipe cleaner for the stem.
Use another pipe cleaner for the leaves.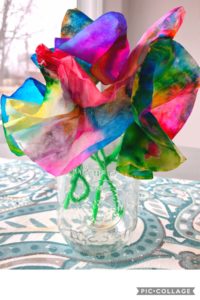 Tip: If you want to contain the mess of wetting the coffee filter, place it in a baking pan before spraying.
The paper you use to line the coffee filter will also get tie-dyed and makes an extra piece of artwork that kids love.
So there you have an easy, tie-dye preschool flower craft that your kids will love! Happy crafting!
Like this post? Pin it for later!