Are you ready to take art outside and finally get a clean house back? This ice painting activity is perfect for the deck or driveway this summer!
Frozen Painting Fun
I don't know about you, but I love a good art project that can be done outside! I would much rather have art activities going on in my yard, deck or driveway than inside the house where I have to clean up.
Now that the weather is getting nicer, this ice painting activity is perfect to do with your kids.
Like all my favorite art projects, prep is very easy. You'll need to prep your paints the night before (or at least a few hours before), so they will be frozen and ready by the time it's art time at your house.
This is a very open-ended process art project, rather than a craft. I want my children to express their creativity, rather than conforming to my idea of what a craft 'should' look like.
All in all, this is a super fun, colourful activity that is perfect for a warm day.
I hope your kids have as much fun playing with these ice painting as mine did!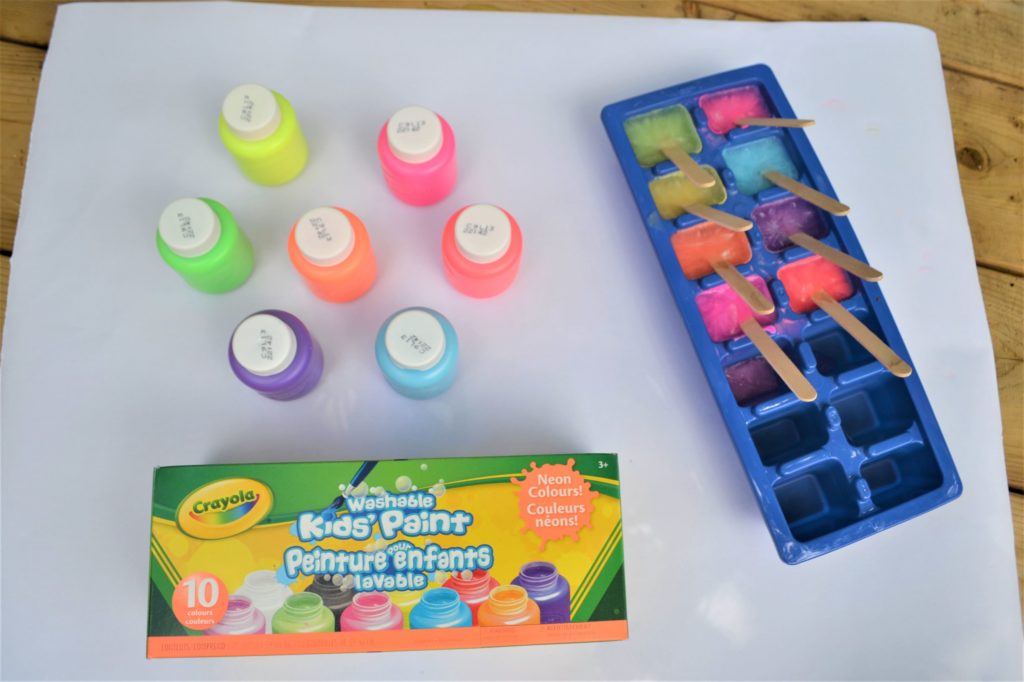 Materials for Ice Painting
ice cube tray
washable acrylic or tempura paint
Popsicle sticks
paper
Instructions for Ice Painting
Pour a dollop of each colour of your paint into an ice cube tray.
Mix the paint with some water (about half and half).
Place a Popsicle stick in each ice cube compartment.
Freeze overnight.
The next morning you'll have a fun activity all ready to go. Just place a large sheet (or several large sheets) of paper on your deck or driveway, pop the paints out of the ice cube tray and, voila! Ice painting fun!
I hope your kids have as much fun with this activity as mine did!
Like this post? Pin it for later!